Workover Rig Utilizing High Pressure Jointed Pipe
Coiled tubing units can be used at lower depth wells (1500+ m)
to shorten trip times. The more rapid decent and ascent
speeds offered by coiled tubing allows the jet drilling process
to be completed more quickly and thus economically. However,
in shallower wells High Pressure Jointed Pipe can be more
beneficial by allowing a workover rig to be used
throughout the jet drilling process.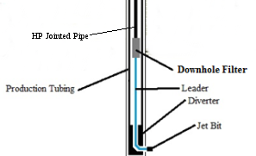 Jet Drilling with Coiled Tubing
Run CT to bottom with a 30 to 60 foot HP hose and nozzle on bottom
Pump water through nozzle at 10,000 to 12,000 psi
Drill the lateral to the desired distance
A downhole filter is used to prevent nozzles from plugging
Rotate diverter in specific increments to drill multiple laterals
Pull diverter or move to another kickoff point to continue drilling more laterals
Repeat process until all laterals are drilled